The 150th Jubilee Window 1869-2019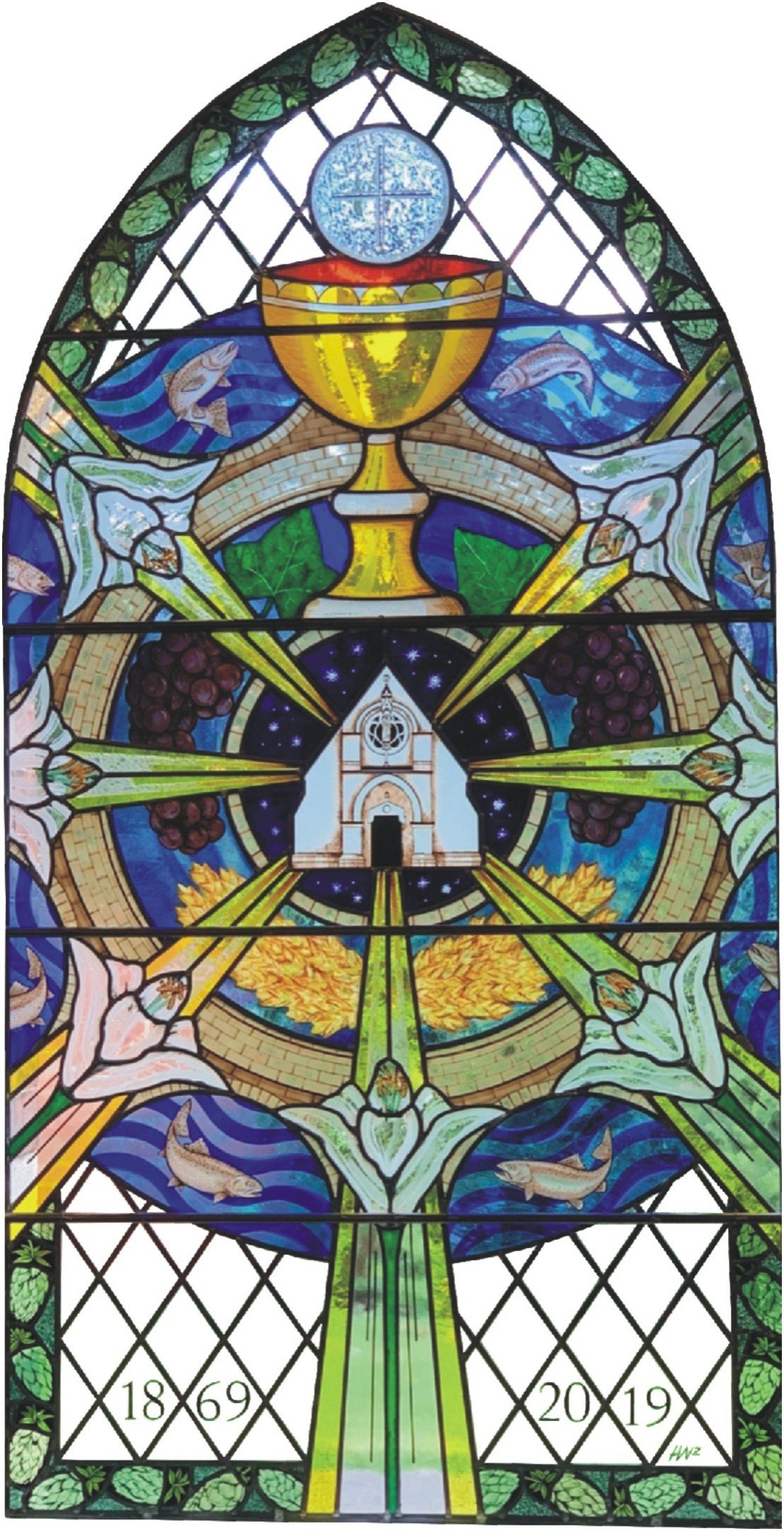 A Description of the 150th Jubilee Stained Glass Window
The new stained glass window has been commissioned to celebrate 150 years since the opening of Saint Joseph's Church in Tadcaster, recognised by the dates 1869 – 2019 placed at the base of the design. The ideas developed within it have been inspired by the themes set out in the brief from the parish: faith and community,
in Jesus Christ, through the past, present and in the future.
The overall structure of the design is formed by a series of concentric circles. A circle is one of the simplest, most ancient symbols of continuity and universality, which draws all things together and symbolises the wholeness of God's creation and the connectedness of all things. The design is framed by a decorative border of hops, giving reference to the historic brewing industry of Tadcaster.
Saint Joseph's church itself stands at the centre of the design, demonstrating its place in the heart of its town and its worshipping community. Radiating from the Heart of God's Infinite Love and mediated through the church are seven beams, symbolising the Seven Sacraments of the Catholic Church. A circle of lily flowers face inwards to remind us of Jesus' Beatitude "Blessed are the Pure in Heart, for they shall see God." Saint Joseph's staff of authority and truth bursts into into a Lily flower. The lilies also refer more widely to the Holy Family: to the purity and chastity of the Blessed Virgin Mary and the innocence of the Infant Jesus.
Above the church, the Sacred Host and the Chalice of the Eucharist symbolise the source of nourishment of the Catholic faith abiding in Tadcaster. The theme of the Eucharistic Liturgy is underlined by the grapes, vine leaves and ears of wheat which surround the central image, representing the bread and wine which are transubstantiated into the Body and Blood of Jesus Christ during the celebration of the Holy Mass.
Connecting the Host, the Chalice and the lilies are the arches of the famous bridge at Tadcaster; one of the most familiar images of the town; one which connects East and West Tadcaster: bringing the wider community together. The lily flowers stretch across the arches, bridging divisions and representing the unity of the Catholic faith in Christ, The Bridge (Pontifex.) Below the arches of the bridge flow the waters of the River Wharfe, completing the outer circle. Fish dancing in the waters remind us of this early symbol of Christianity, often used to refer to Christ himself. : ἰχθύς an acronym meaning Jesus Christ, Son of God, (our) Saviour. This depiction of the Wharfe at Tadcaster and of the popple wells are thus symbolic of Holy Baptism. All this relates to the Font at St Joseph's in front of this window. The Sacrament of Holy Baptism is the Gateway to becoming a New Creation in Christ: welcoming new generations into the communion of the Church and ensuring the growth of the Catholic faith.
Helen Whittaker MA FMGP